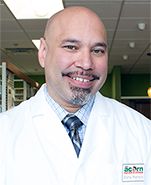 Ajay Sharma, RPh; MBA
Ajay Sharma is a retail community pharmacist with over 20 years of experience in the profession. In addition he holds an MBA from American University in Washington, DC.
While a student at the University of Maryland School of Pharmacy, Mr Sharma had the opportunity to work as a research assistant for the Department of Pharmaceutical Sciences. In this position he helped train FDA researchers on the use of the Zanasi capsulation machine.
Additionally, he worked on batch testing to develop generic formulation guidelines with the goal of producing high quality and low cost medications. It was during this time that his interest in compounding was ignited. Later, he trained at the Professional Compounding Centers of America to master new techniques in compounding.
Mr. Sharma grew up on Maryland's Eastern Shore, coincidentally on Acorn Drive and moved to the Baltimore/Washington area where he currently resides with his wife and two children. His interests include jazz drumming, cycling and cooking with his family. It has always been his dream to own and operate his own pharmacy to better serve the community. His emphasis on patient care is unique to today's retail pharmacy environment due to unmatched service, years of clinical experience, and loyalty to his customers.